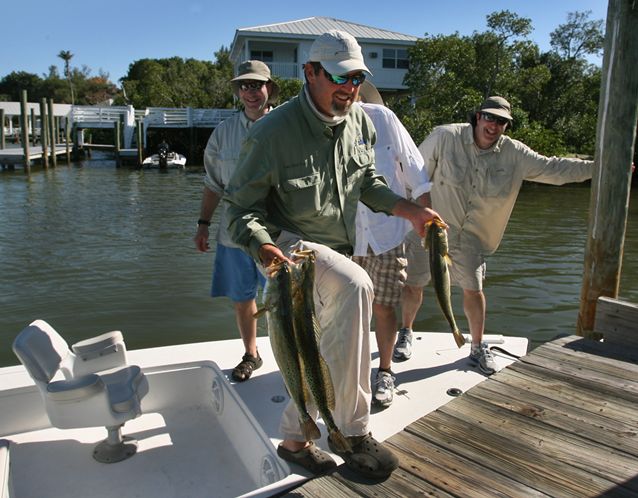 Next to the Pineland Marina on Pine Island is the Tarpon Lodge, also owned by the Wells family. Built in 1926, the lodge sustained major damage in Hurricane Charley and has been extensively updated. Furnishings are lovely, and beds are supremely comfortable. Rates are $115 to $295, depending on location and the season. Call (239) 283-3999 or go to tarponlodge.com. A night or two in each place will give you a satisfying sample of the area. The sunset from the Tarpon Lodge is spectacular.
Where to stay: Rob and Phyllis Wells own the only accommodations and restaurant on the small island, the Cabbage Key Inn. There are six rooms in the main lodge that houses the restaurant and seven cabins of various sizes scattered near the shoreline. Some are big enough for large groups or families. The Dollhouse, Cabbage Patch and Tarpon cottages are cozy places with their own docks. Rates for the rooms are $99 to $139 a night. The cabins range from $145 to $414 depending on size and season. Rates are lower in the summer. Call (239) 283-2278 or go to cabbagekey.com. Rooms in the inn are comfortable, though a tad noisy if the bar patrons get rowdy. Still, we found them comfortable and the experience quirky enough to be fun.
Where to eat: Both inns have their own restaurants, and unless you bring food with you, you'll be eating three meals in the Cabbage Key restaurant, the only one on the island. I recommend the cheeseburger in paradise, their nod to Jimmy Buffett's contagious island song. It's prepared simply with the basic condiments, but really is delicious. At night, the dinner menu is extensive and the fish specials often local. We ate tripletail and lane snapper, prepared with interesting sauces. Both a hit. Don't leave Cabbage Key without having the house-smoked salmon served cold with a dill horseradish sauce ($8.99). Among the best I've had. For the three meals, plan on at least $55 per person a day, not including cocktails, which can really drive the cost higher. Cabbage Creepers, at $7 a pop, do creep up on you. Thankfully, no one is driving, because the Creeper and the Planter's Punch (also $7) are must-tries.
There are more places to eat on Pine Island, but if you're staying at the Tarpon Lodge, you'll need to drive to them. Dinner at the lodge is an elegant affair — though you don't need to dress up. We sat a table away from a young couple headed for their prom; he had on a cowboy hat, a reminder that you are not far from agricultural fields. Order the blue crab and roasted corn chowder ($6.95) for sure.
What to do: Fishing, boating and shelling in one of Florida's most beautiful spots are the top activities. I enjoyed finding a quiet spot on Cabbage Key to practice the art of people watching. Daytrippers descend from about 11 a.m. to 4 p.m. on days of good weather for lunch — sometimes 700 of them! — and a little relaxation. When they clear out, the island belongs to you and whoever else is staying the night.
The passes of Pine Island Sound are home to the largest tarpon migration in the country. Offshore reefs and the gulf bring charter fishing and spearfishing opportunities. Sandy shores and barrier islands offer pier and beach fishing for flounder; the estuaries behind those islands feature crafty snook, redfish and sea trout as well as sought-after cobia, tripletail and those silvery tarpon.
There are a number of guides for hire for fishing and shelling trips. Cayo Costa Island just west of Cabbage Key is one of the best spots for shell hunters. Among the guides for half-day or daylong trips are Capt. Eric Flett of Native Attitude Charters, (239) 872-7841 or nativeattitudefishingcharters.com; Capt. Miles Meredith of CT & T Charters, (239) 574-6950 or mmeredith@embarqmail.com; and Capt. Jayson Rider of Searider Charters, (239) 283-5036 or searidercharters.com.
Kayaks are also available for rent (ask when you check in or make hotel reservations) along the Great Calusa Blueway paddling trail, which meanders 190 miles along the back bays and wildlife-laden shores. Markers guide canoeists and kayakers away from powerboat traffic and through calm areas that often are only a foot or two deep. Along with the posted signs, paddlers can use free maps and/or GPS coordinates, both of which are online at calusablueway.com. The annual Calusa Blueway Paddling Festival is Nov. 3-6.