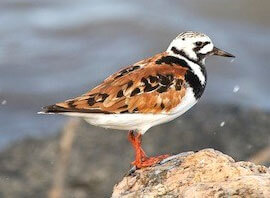 Thanks to our quick thinking staff members, "Ruddy" is one lucky bird. Last week, Oleg, Joe, Angela and Michelle were on the staff boat from Cabbage Key to Tarpon Lodge when they noticed a Ruddy Turnstone shorebird drowning.  They quickly pulled him to safety, put him in a box and took him to the Clinic for Rehabilitation Wildlife (CROW) drop off location in Capel Coral (http://crowclinic.org).
On Friday, we checked in with CROW and learned that Ruddy is recovering quite nicely.  He has scabbing on his legs and wings from his struggle, and he is underweight, but his appetite is good and he is expected to make a full recovery.  If not for the compassionate and swift attention of our crew, this would not have been the case.
Ruddy will stay at CROW until he has fully recovered. Then, Maureen, staff member at Tarpon Lodge and Pine Island CROW volunteer, will pick him up for release. Stay tuned for more details on releasing Ruddy back into his natural habitat.
We are grateful to our team and to the wonderful people at CROW for rescuing Ruddy.
Thanks again to Oleg, Joe, Angela, Michelle and our friends at CROW – and all the best to Ruddy for a speedy recovery!