A dream of the perfect wedding often includes pristine water views graced by vivid sunsets and soft, twinkling lights. Imagine a hush falling over the crowd as bride and groom promise their "I Do's."  The air is filled with the gentle sounds of softly lapping waves and whispering Gulf breezes. When the ceremony ends, the spirit of celebration begins – wining and dining, dancing and laughing, revisiting memories and creating new ones. For couples who realized their own dreams, we asked what were the most important criteria for their island wedding. Here are their top five:
1. Private Island Ambiance
The number one reason for an island wedding is to create a unique event in a lovely, secluded setting that is classic and timeless. This is an opportunity to fulfill a vision of being surrounded by panoramic water views, swaying palm trees and rolling, manicured lawns, the perfect backdrop to a most memorable day.
2. Easy, Breezy Destination
While destination weddings are extremely popular, most couples agree that they do not want to ask their guests to travel halfway around the world to attend their wedding. The perfect scenario is to discover a tropical paradise that is an easy ride or flight from home. It helps if the airport is within reasonable proximity. Brides and grooms also preferred that the weekend events, ceremony and reception take place at one location so that friends and family could relax at a waterfront paradise.
3. Culinary Delights
Even if one is not an official "foodie," what wedding would be complete without fabulous cuisine? It is possible to find a tropical destination with award-winning food and wine, and this is a priority for most couples.
4. Gorgeous Sunsets & Exciting Adventures
A wedding weekend is imbued with a sense of optimism and adventure, and that can be enhanced even further with a beautiful setting. Plus, panoramic water views and vivid, orange-hued sunsets are the perfect backdrop for photos. Another priority is to be in a location where guests can enjoy a host of activities – for example, boating, fishing, nature walks, and exploring local art galleries and historic sites.
5. A Touch of Romance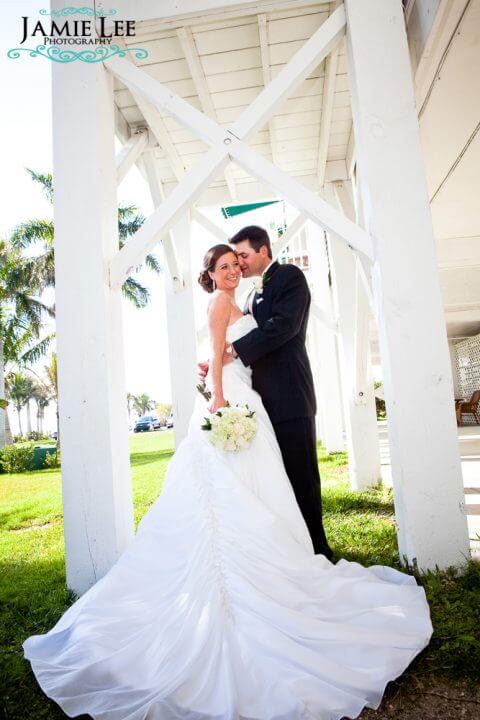 For the bride and groom, this is their once-in-a-lifetime opportunity to celebrate with their loved ones in a way that is meaningful to them. Planning a destination wedding in a serene, tropical environment filled with nature and water views, is for many the perfect beginning to a happy, loving life together.
Tarpon Lodge is a waterfront paradise located in Pineland on Florida's Gulf coast, next to Fort Myers and Regional Southwest(RSW, an international airport. The 1926 Historic Lodge, Island House, Cottage and Boathouse offer 20 rooms and two cottages that can comfortably accommodate guests on-site, leading up to the wedding. The romantic gazebo, dock, historic lodge and swaying palm trees make every ceremony, outside cocktail hour and indoor reception an unforgettable experience.