We have always been fascinated with the rich and storied history of our community. Working at Tarpon Lodge has allowed us to share these unique and exciting facts with our guests who are curious about the area and how it all began. While not historians or archeologists, living and working in proximity to the Florida Museum of Natural History's Randell Research Center has given us a lot of information to pass on. For the history buffs out there, here's what we have learned: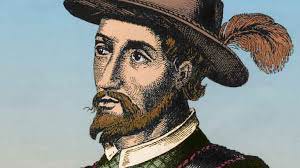 The very famous Juan Ponce de Leon, whom we all learned about in elementary school, "discovered" Florida in 1513, supposedly while searching for the Fountain of Youth. I put discovered in quotes because apparently there was already a large population here – this was the home of the Calusa Indians.
The way it is told is that in 1521, Ponce de Leon organized a colonizing expedition on two ships. It consisted of some 200 men, including priests, farmers and artisans, 50 horses and other domestic animals, and farming implements. The expedition landed on the southwest coast of Florida, in the vicinity of Caloosahatchee River. The colonists were soon attacked by Calusa Indians and Ponce de Leon was injured by a poisoned arrow to the shoulder. After this attack, he and the colonists sailed to Havana, Cuba, where he soon died of the wound.
Archeological evidence suggests that this occurred in a hidden corner on the northwestern side of Pine Island where Pineland is situated. This is a community steeped in history and well known in archeological circles.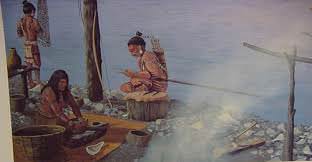 No one knows when Pine Island was first inhabited, but human remains more than 6,000 years old have been unearthed here. What we do know is the Calusa Indians inhabited Pineland at least 2,000 years ago, and stayed here for more than 1,500 years. Click here for a great video we found of a documentary on this topic produced by PBS.
One can learn more by visiting the Calusa Heritage Trail on Pine Island, a 3,700-foot interpretive walkway that winds through 50 acres of the Pineland Archeological site. Shell mounds mark the location of a 2,000-year-old Calusa Indian village.
History tells us that the Calusa were the tribe that once controlled most of South Florida. They were descendants of Paleo-Indians who inhabited Southwest Florida approximately 12,000 years ago. The Calusa tribe once numbered around 50,000 people. They were occupying this land and engaging in commerce, culture, religion, politics and family life for more than 1,500 years before even Christopher Columbus was even born.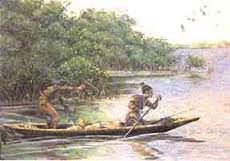 We are amazed every day that the Calusa Heritage Trail is located directly across the street from where we work at the Historic Tarpon Lodge Inn, Restaurant and Lodge. Our guests from all over the world enjoy our lovely accommodations, gourmet restaurant, family reunions, weddings, or just a quick drink to enjoy the amazing sunsets – while a wealth of history lies just outside our front door.
Tarpon Lodge is a waterfront paradise located in Pineland on Florida's Gulf coast, next to Fort Myers and Regional Southwest (RSW), an international airport. The 1926 Historic Lodge, Island House, Cottage and Boathouse offer 20 rooms and two cottages that can comfortably accommodate guests on-site. An award-winning, gourmet restaurant overlooks a romantic gazebo, rolling lawn and panoramic water views.