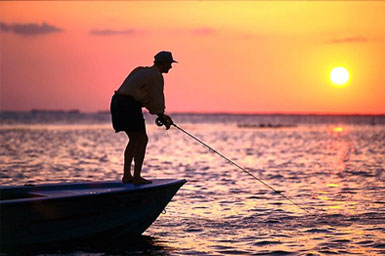 The Weekend: Go Fishing at Pine Island
 Pine Island may not have a single beach, but you'll hardly notice while napping on a hammock or fishing along the 17-mile island's coast.
Start Here: An old-school fishing lodge with upscale trimmings, Tarpon Lodge provides comfort; we love the island house, a building on stilts with views of Pine Island Sound. (You're so close that the waves will lull you to sleep.) Get fortified with a complimentary continental breakfast at the 1926-built historic lodge building before heading out for the day.
Weekend To-Dos
1. Fishing is number one on your to-do list. Tarpon is the premier catch here, but Native Attitude Fishing Charters will take you to waters where redfish, snook, tripletail, cobia and others (depending on the season) are biting. While you cruise, keep an eye out for the wooden shacks perched on stilts off North Captiva Island; they're still used by private fishermen for overnight excursions.
2. Every boater knows that being on the water whets your appetite. Instead of packing your own, dock at Cabbage Key for burgers and a Cabbage Creeper: white rum, cream of coconut, coffee liqueur and pineapple juice. This spot is pure Old Florida; decoration comes courtesy of dollar bills pinned to the ceiling and walls with sayings like "Go Noles" written on them.
3. For dinner, get your seafood on with dinner at the Tarpon Lodge's four-star restaurant, serving up the best blue-crab-and-roasted-corn chowders around. Afterwards, there's live music in the lounge — the perfect spot to hear plenty of fish tales.