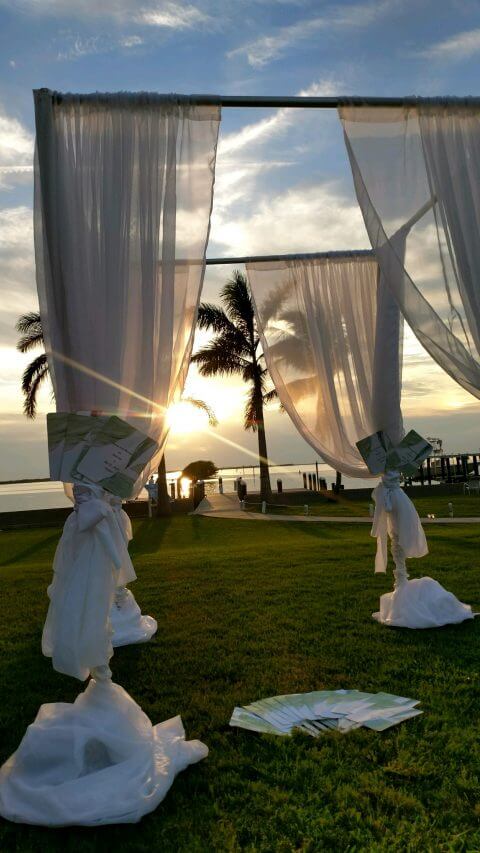 We sometimes say "we've seen it all" in the decades that our family has owned and operated Tarpon Lodge. But in all the years, our community has only very rarely experienced a storm of such strength and magnitude as Hurricane Irma, a category 4 that reached our shores on September 10. Needless to say, we were worried about our staff, we worried about our guests, and we worried about our loved ones. When we realized everyone was safe and the damage to our properties was only minimal, we felt relief for a minute – until we learned that not everyone in our region was so fortunate. And yet, we knew how important it was for all of us to move forward. For us, the best way to do that is to regroup, rally our amazing team, and continue to work.
What better way to begin the road to recovery than with a wedding? At Tarpon Lodge, planning and creating a couple's new beginning are among our favorite things. We love engaging with the wonderful people who celebrate the most special occasion of their lives with us. As with Amber and Paul, during the year or so of wedding planning we establish friendships that often last way beyond the wedding day, and we treasure those relationships. So even in light of these challenging circumstances, we knew we had to do everything we could to make sure that Paul and Amber's wedding was all that we had worked for, and all that we had promised. Amber's touching words follow, and we so appreciate that this new bride took the time to share her story.
There isn't a superlative exceptional enough to capture how we feel about Tarpon Lodge. We've visited many times, including the evening after our engagement.  It was the natural choice for our wedding site. Shohreh and Meagan made wedding planning stress free. Then, Hurricane Irma came days before the wedding.

Shohreh called me. Despite not having power at the lodge or at many of their staff's homes, they were prepared to host the wedding and worked around the clock to ready the property! She sent me pictures showing me how beautiful it was after all of their efforts. I was so grateful! Power was turned back on the day before guests arrived! When our officiant dropped out the day before the ceremony, Shohreh had another ready to fill in within an hour of having heard the news. Tarpon Lodge welcomed all 60 of us as if it was just another magical wedding they were putting on, but it was really a miracle wedding given all of the heroic effort put into making it happen. They made it look seamless.