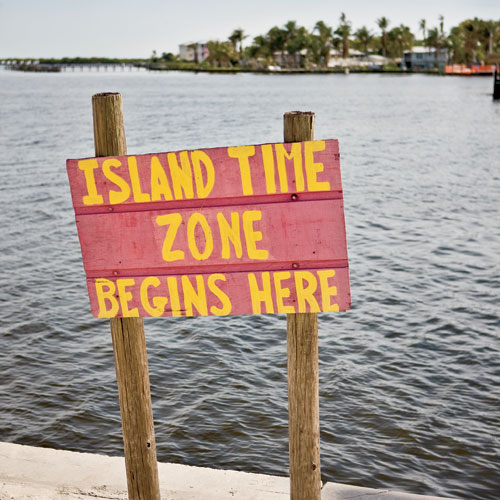 Pine Island's sparse traffic–and the bike path running from one end to the other–makes it ideal for cycling. Hikers take the Calusa Heritage Trail, which winds among ancient shell mounds and the remnants of an impressive cross-island canal built by the Calusa Indians, who settled here around A.D. 1. Trail signs illustrate the thriving seaside village that greeted Spanish explorers in the early 1500's.
Stay: Tarpon Lodge offers waterside accommodations in the original 1926 inn and auxiliary buildings, plus fishing and boating day trips with osprey, egret, and dolphin sightings. Rates start at $135; 239/283-3999 or tarponlodge.com
Eat: The Tarpon serves always fresh (never frozen!) fish and outstanding blue crab-and-roasted corn chowder. Bert's Bar & Grill in Matlacha features tasty seafood, live music, and dockside dining; Great Licks Ice Cream Shop satisfies sweet tooths.
Play: Pine Island Cycles, Inc., rents beach cruisers ($15 per day); 239/560-0320. Gulf Coast Kayak provides opportunities to paddle the area's placid inlets, starting at $30 for half day (cash only); 239/283-1125 or gulfcoastkayak.com.
Most people flock to Cabbage Key, a 100-acre refuge off of Pine Island Sound, to have drinks or lunch at the Cabbage Key Inn, a converted 1928 house set atop an ancient Calusa shell mound.
Over the years, patrons have plastered the bar and restaurant with thousands of dollar bills, and locals like to claim that longtime regular Jimmy Buffett was inspired to write his song, "Cheeseburger in Paradise" here (and not in the Caribbean). Day-trippers stroll a nature trail studded with mangroves and gumbo limbo and buttonwood trees, plus cabbage palms, the source of the island's name.
Those who want to sample the surf can rent a kayak or motorized skiff and check out nearby Cayo Costa State Park (also served by ferry from Pine Island). This barrier island features a primeval beach, with more than six miles of white sand, shells, and Gulf-tossed driftwood.
Stay: Cabbage Key Inn has six rooms in the main building (numbers 1 and 6 have the best water views) and seven rental cottages, including the petite Doll House, which has its own dock. Rates start at $119.
Eat: The cheeseburger is a mainstay at the Cabbage Key Inn, but peel-and-eat shrimp, house-smoked salmon, and homemade Key lime pie also star.
Play: Guests can rent kayaks and skiffs from the inn, and make their way to Cayo Costa.