Driving onto Pine Island is like stepping back in time to Old Florida. There's still just one way on and one way off this largest of Florida's barrier islands, passing through the tiny fishing hamlet of Matlacha with its funky shops, galleries, and open air bars, then over a draw bridge – affectionately nicknamed "The World's Fishingest Bridge".
If you sail in on your yacht, you might never know you're just a stone's throw from the bustling coastal city of Ft. Myers, but the rest of us will navigate the bustling traffic over bridges, causeways, and through Cape Coral to get here. That's OK, the better to appreciate the slower pace.
We were on our way to Tarpon Lodge, Pine Island, one of the last remaining Florida-style sportsmen lodges in this part of southwest Florida. And as we headed north on the island's one main road, I had the feeling I'd been here before, with fleeting memories and treasured photographs of my grandfather on his annual fishing trips to Florida coming back to me. Pine Island is 18 miles long from Bokeelia at the north end to St. James City at the southern end, and just 2 miles wide, and is close to Sanibel and Captiva Islands as the crow flies. We drove miles of mango orchards and palm tree nurseries before arriving at Tarpon Lodge just after lunch.
At check-in the staff made us feel so welcome, and appeared to treat everyone coming in like they were old friends. They were full of helpful information about the lodge and the other islands in Pine Island Sound.
Accommodations at Tarpon Lodge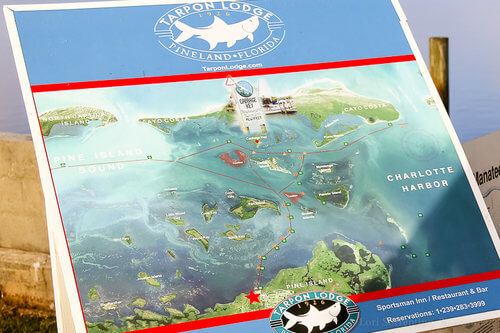 Tarpon Lodge has several types of accommodations: quaint rooms in their original 1926 Historic Lodge or comfy rooms in the Island House. For a little more privacy, there's the Boathouse and Cottage near the adjoining Pineland Marina, two individual bungalows set away from the main lodge. It's not luxury, but anything you're missing you'll find you don't really need.
Our room in the Island House was lovely and bright and overlooked the pool, marina, and the beautiful Pine Island Sound. The elevated Island House is built on stilts, with 12 guest rooms on the second floor and shaded open-air seating areas on the ground level below. The entire area around the building and pool was well-groomed with lots of pretty flowers at this time of year.